10 ESSENTIAL CUSTOMER SERVICE SKILLS
When your agents are taking calls on the phones for your virtual call center, customer service skills are extremely important. Knowing how to deliver on customer service will make the difference when it comes to success. Below are 10 essential customer service skills. Mastering these skills will help you succeed as a call center agent. Providing excellent customer service is what matters most.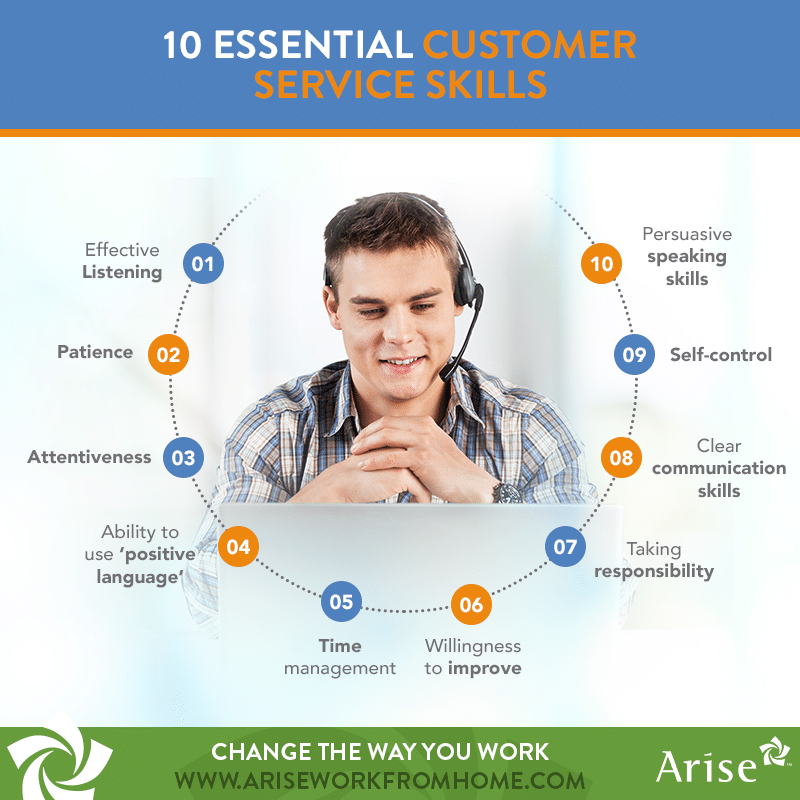 Effective Listening: Many people might associate speaking with customer service, but listening is the first step in any customer service scenario. Your agents will need to learn how to listen to what a caller is saying to identify how they can be helped. This means that polishing effective listening skills is a top priority.
Patience: Similar to listening, is having patience. An important part of being a good customer service agent is having the patience to hear out what a caller is saying and taking the time to go through the steps to solve a problem.
Attentiveness: It is important to make sure that you ensure your customer service agents are attentive to callers, they do not get distracted, and to make sure that all of the reasons for their call are being addressed.
Ability to use 'positive language': Staying positive is an important skill for customer service agents to possess. It goes above and beyond being happy and friendly but encourages the customer to also remain positive. Practice using positive language with your agents regularly.
Time Management: Anyone who works from home must understand time management; however, it also applies to customer service and knowing how to efficiently take care of callers.
Willingness to Improve: This skill comes into play with customer service in twofold. 1.You must always want to improve and the way that you can do that is by asking for feedback. 2.Then, you must apply that feedback to practice.
Taking Responsibility: Even though your agents might not be directly responsible for the reason a customer has a problem, they must be able to take responsibility. This can be done by addressing the problem and outlining the steps to resolve their issue.
Clear Communication Skills: Just speaking isn't good enough, the communication must be clear and be able to be understood easily.
Self-control: When dealing with people, especially if they are angry or upset, self-control comes into play. Agents must know how to stay calm and resist the urge to get angry, frustrated, or raise their voice at a caller.
Persuasive Speaking Skills: We've talked about positive language, clear communication skills as essential customer service skills but having persuasive speaking as a skill goes a step further to knowing just how to say things to a caller to guide the conversation to a positive outcome.
These 10 essential customer service skills illustrate how your call center agents can provide the best customer support possible. It is very important to remember how imperative listening is when it comes to call center support and can help your agents turn callers into happy customers.
The Arise® Platform offers a customer service work from home opportunity making it easy for anyone to operate their own call center business right from home. It gives you the freedom to be your own boss, set your own hours, and work from the comfort of your own home. Being your own boss means taking charge of your call center, which must include a strong focus on customer service. The tips in this infographic will help your company maintain an excellent repertoire and provide the service that is expected from the Fortune 500 companies your company services when taking inbound customer service calls for your home-based call center business.
Not already registered? Get started today!
Be your own boss
With The Arise® Platform
Provide customer support from home and have control over your income.
Sign up now!