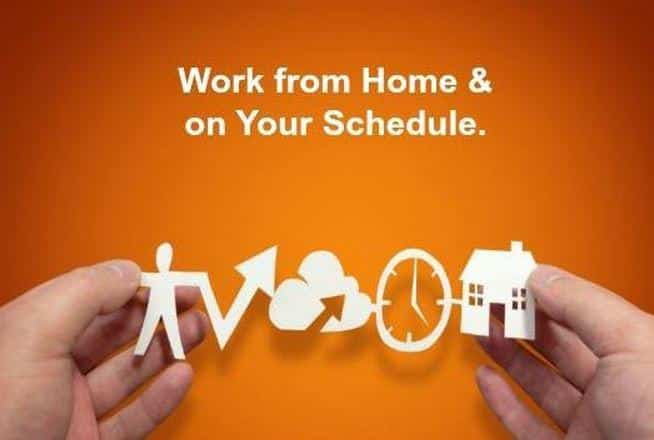 MAKE SURE YOU HAVE THE RIGHT ADDRESS FOR SUCCESS
You have probably heard the phrase "dress for success". Well, when you work from home, that phrase may not necessarily apply – but that does not mean you should not arm yourself with all the tools you need to succeed. Setting up a comfortable, and functional, home office is one of the most important steps you can take when you make the decision to start your own business and work from home as customer service, because your surroundings and environment often affect your mood and level of productivity.
So…what are some of the most important things to keep in mind when you are going to work from home?
Have a designated room or space that will ONLY be used for work. If you are fortunate enough to have a room that is only used as an office – that's great. But even if you use part of your bedroom or living room as your office space, it is extremely important that you clearly define the area. This will allow you to focus solely on work when you're there and vice versa. The proper lighting and temperature are also very important. You should consider where the windows are and think about placing your work area along the same wall, or adjacent to the windows, so you do not have a glare on your screen as you work. If there is an area of your house that is warmer, such as the back, it might be best to set up your office towards the front where you will be cooler throughout the day.

Desk Ergonomics. A well-designed and appropriately-adjusted desk provides adequate space for your legs, allows proper placement of computer components and accessories, and minimizes awkward postures and exertions. If you are working on a basic table, chances are the monitor is much lower than it should be. This can cause headaches, backaches and other issues. Most recommend that your monitor be at eye level and at a distance of at least 20 inches. It is better if frequently used devices like your keyboard, mouse and phone are located within comfortable reach. In addition, some desks have hard edges that come into contact with a user's arms or wrists. Over time, this can affect nerve and blood vessels, possibly causing tingling and sore fingers. A desk with rounded edges can help prevent this – or at the very least, use a wrist rest. Maybe even more important than your desk… you should definitely select a chair that is ergonomically correct and has some type of lumbar support. Most people feel better if their feet can rest comfortably on the ground and their knees are about level with their hips.

Avoid a cluttered work space. A cluttered workplace is depressing. Your best bet for having a clear desk and optimum working environment is to have a place for everything. You can add shelves above or next to your desk to gain more storage space and to reduce desktop clutter. Organize drawers and invest in an inexpensive USB hub or something similar to keep cords, wires and cables to a minimum.

Decorate – at least a little bit! You don't have to spend a lot to make your home office comfortable and inviting. The right touches like artwork or displaying family photos can change the look and feel of your space. A little bit of greenery is always nice. It has been proven that plants in the workplace can reduce stress levels and increase productivity.
Search online for more tips on how to optimise your workspace and if you are thinking of using the Arise® Platform, please review the helpful information available in the Business Owner Reference Guide.
Remember… "If you don't build your dream, someone else will hire you to help them build theirs." Dhirubhai Ambani.
Be your own boss
With The Arise® Platform
Provide customer support from home and have control over your income.
Sign up now!